Friday, February 3, 2012
Posted by

Albert
at 6:04 AM
0 comments

Sunday, October 9, 2011
New updates for SodaSynth VST and SodaSynth for Touchpad are now available.
Version 1.0.3 of SodaSynth VST adds tighter tempo sync of the oscillator mode change knobs, and SodaSynth HD for Touchpad has also been updated with:
Three new beats to play with (with slower tempos)
Loop saving as .WAV
Octave shift buttons
Tighter tempo sync
Existing users can grab the latest version of SodaSynth VST from
our downloads page
or on your Touchpad through the HP App Catalog.
Posted by

Albert
at 1:50 AM
0 comments

Sunday, September 18, 2011
Oscillicious Audio Labs
is pleased to announce the immediate availability of
SodaSynth
in three delicious flavours:
SodaSynth VST
SodaSynth for Chrome
SodaSynth HD for the HP Touchpad.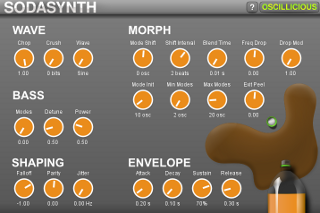 SodaSynth VST
produces a unique clean sound without any filters and effects, making SodaSynth lightweight, convenient to layer, and easy to mix into tracks. With 5 classic waveforms, up to 32 oscillators per note, full 8 note polyphony, and 37 synthesizer presets, SodaSynth VST provides unique value in a tiny package. An integrated help system is also easily accessible inside the VST to help sound designers understand spectral morphing synthesis and create their own sounds.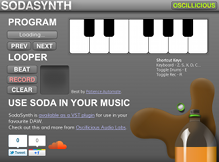 SodaSynth for Chrome
brings low-latency live audio to the web as the world's first Native Client application in the Chrome Web Store. By utilizing Google's emerging Native Client technology, this free version of SodaSynth allows users to
jam with a synthesizer in their web browser
. An innovative 4-bar live looper with automatic overdubbing is included for fun and easy recording directly off the synthesizer.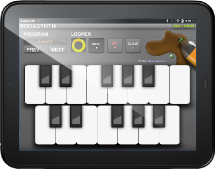 SodaSynth HD for the HP Touchpad is the first synthesizer available for the Touchpad, and offers a two octave keyboard with full five-finger multitouch support. A selection of 21 synthesizer presets are included along with a built-in live looper for quickly brainstorming new compositions.
SodaSynth HD can be purchased directly through the HP App Catalog on a Touchpad.

Press Kit
Posted by

Albert
at 2:04 PM
0 comments